2020 Hyundai Sonata Hybrid Chicago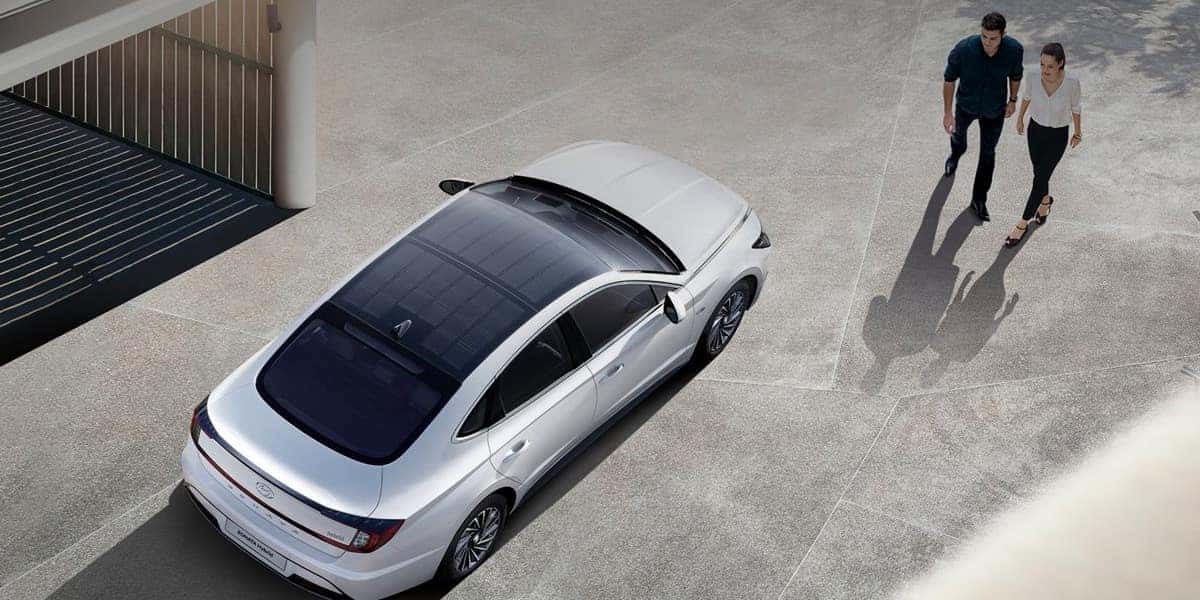 The 2020 Hyundai Sonata Hybrid is so unique and sophisticated, you'll forget it's a hybrid. Starting with its dramatic sports coupe silhouette, the LED lights are beautifully integrated with the chrome trim and are hidden until they illuminate. Inside, sleek accommodations indulge the senses with upscale features in the interior. The 2020 Hyundai Sonata Hybrid features a solar roof on its top trim level. The solar-panel roof directly charges the 12-volt and hybrid batteries and outputs 205 watts of electricity. This system has several benefits: Mileage increases by about 700 miles per year, it helps prevent battery discharge from infotainment or HVAC systems when the car is off, and offers a unique design.
2020 Hyundai Sonata Hybrid Key Features Chicago
The 2020 Hyundai Sonata not only offers a solar roof on its top trim level, and a beautiful exterior, it also has excellent features that you'll want to know about. It has best-in-class highway fuel economy on the Blue trim level and class-leading combined fuel economy also on the Blue trim level. The 2020 Sonata Hybrid also has EPA estimated 52 mpg combined fuel economy rating and 686 miles of driving range on Blue trim level.
2020 Hyundai Sonata Hybrid Tech Features Chicago
The tech features on the 2020 Sonata Hybrid are immense. It offers Hyundai Digital Key technology (optional), Active Shift Control technology that makes shifts 30% faster and smoother, and the unique eco-friendly design cues improve aerodynamics. Another feature you'll enjoy is the top front-seat leg and headroom in the segment.
Why drive a hybrid? The advantages are considerable. While the reasons to drive a hybrid used to be purely practical back in the day. However, now with the Sonata Hybrid, you'll be standing out from the crowd with the imaginative lighting, rear fastback styling, and many more unique features. Whether you want to be eco-friendly or get some free extra miles, the 2020 Hyundai Sonata Hybrid can do all of that and more.
Family Hyundai Near Chicago
Come check us out at Family Hyundai near Chicago and get all the latest information on the 2020 Hyundai Sonata Hybrid as well as other new Hyundai vehicles. Call or visit us today to learn more and to test-drive your next Hyundai! We are conveniently located on 159th Street, our dealership is easy to get to, no matter which direction you come from. We encourage you to browse our online Hyundai inventory as well as our used cars for sale and even get pre-qualified before you arrive. We look forward to seeing you soon!