2021 Hyundai Santa Fe vs 2021 Kia Sorento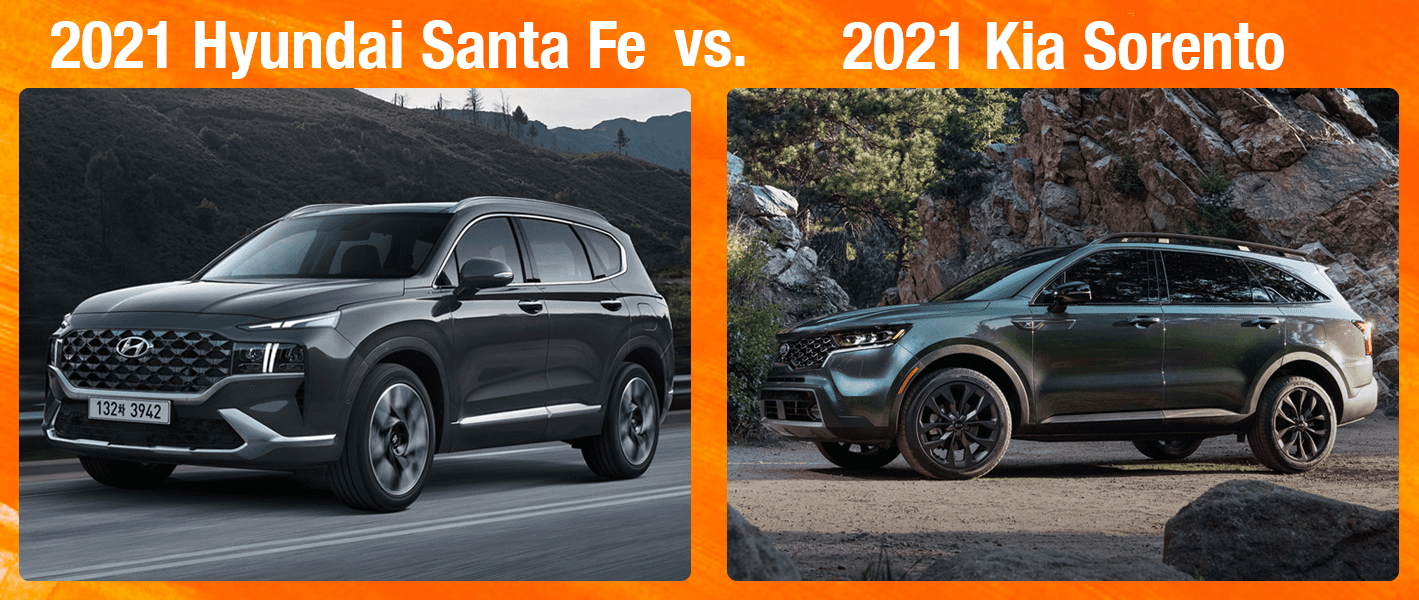 2021 Hyundai Santa Fe vs 2021 Kia Sorento
Midsize SUVs have never been more powerful and fuel efficient. Plus with all the new technologies, safety features, and smartphone connectivity, you'll want to bring one home with you soon! The 2021 Hyundai Santa Fe and 2021 Kia Sorento are both excellent examples of these midsize SUVs. Since they both offer plenty of comparable features, we will dive into their similarities and differences so you can decide which one is right for you!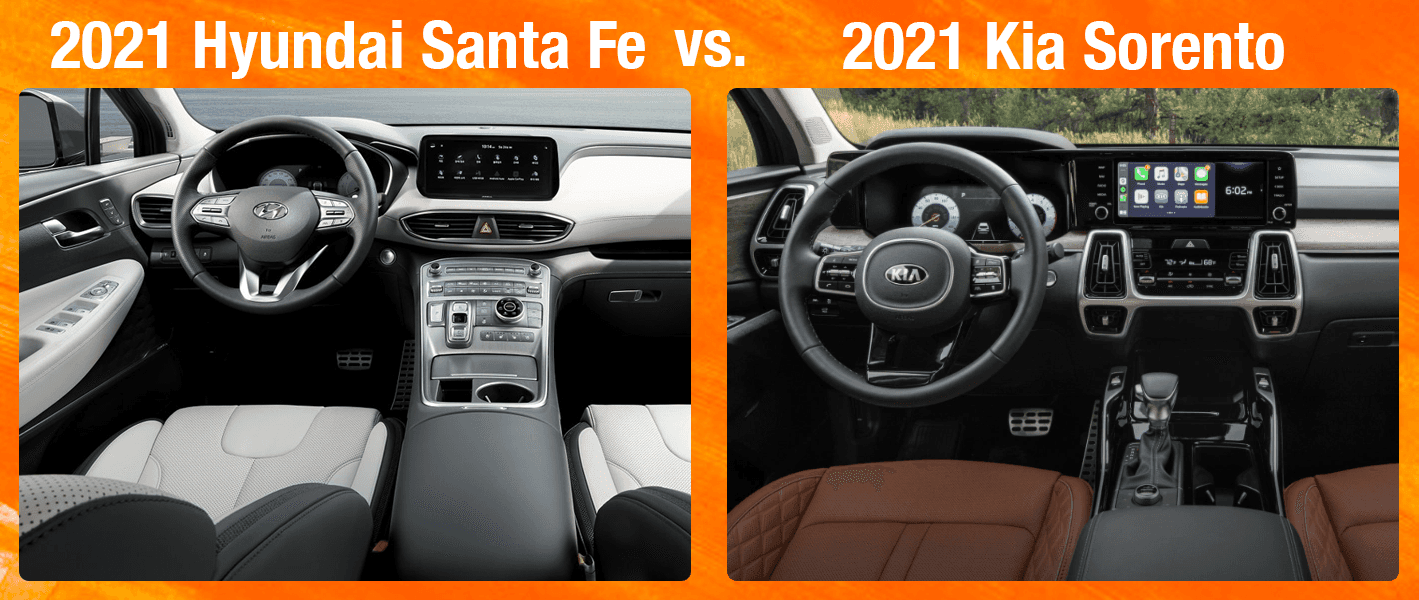 2021 Hyundai Santa Fe vs 2021 Kia Sorento Performance
The 2021 Kia Sorento and the 2021 Hyundai Santa Fe both offer the same three engines. One is the 2.5-liter four-cylinder engine paired with an eight-speed automatic transmission. The powertrain makes the same 191 hp in both the Sorento and the Santa Fe. In terms of fuel efficiency, for the 2.5-liter engine, it is estimated by Kia that the 2021 Sorento will provide 27 mpg, while the Santa Fe is estimated to provide 26 mpg from the same powertrain when equipped with FWD and 24 mpg with AWD. In terms of the turbocharged engine options, the two SUVs are very similar. In both models, the 2.5-liter engine can provide 25 mpg when equipped with FWD.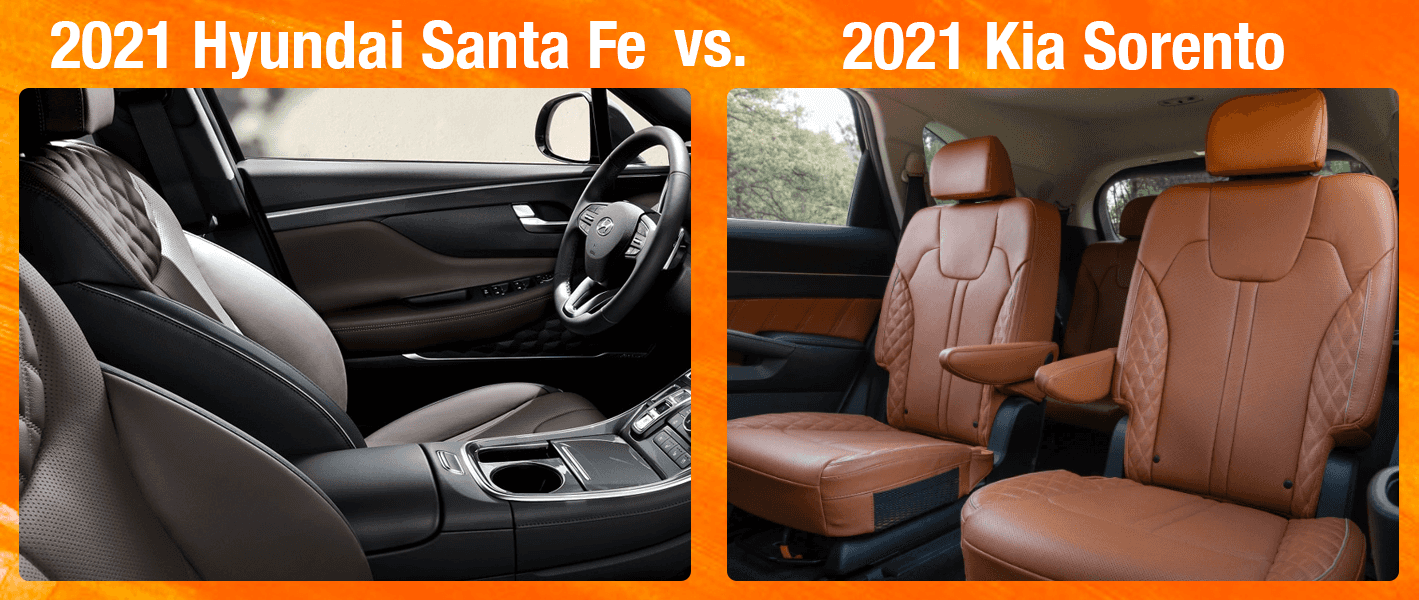 2021 Hyundai Santa Fe vs 2021 Kia Sorento Safety Features
Both the 2021 Hyundai Santa Fe and the 2021 Kia Sorento are packed with plenty of the latest driver assists and safety technology to have your back on the road! These features include a Back-Up Camera, Brake Assist, Stability Control, and Traction Control. These are especially helpful if you're someone who likes to travel off-road or even if you drive in crowded city streets. Other safety features that are standard on both models are Lane Departure Warning, Lane Keeping Assist, and Tire Pressure Monitor.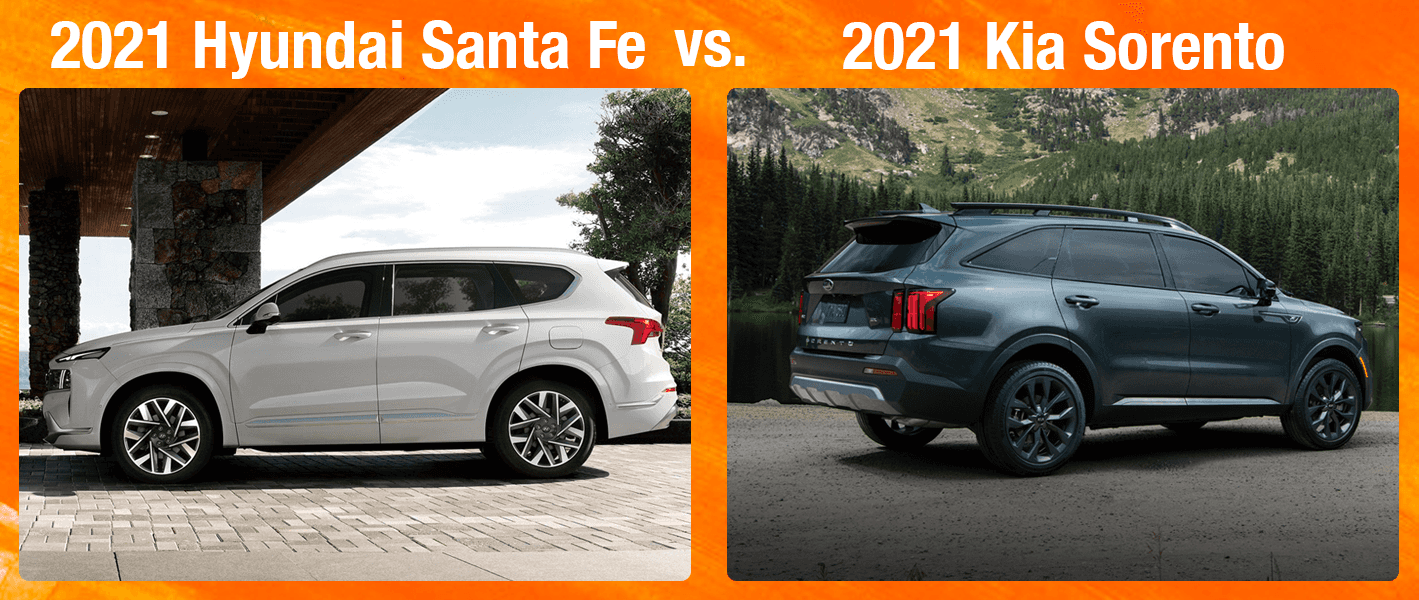 2021 Hyundai Santa Fe vs 2021 Kia Sorento Interior
In terms of interior makeup, both models provide impeccable quality. However, if you're looking for a specific style and personal preference, the 2021 Sorento provides horizontal lines while the 2021 Santa Fe's style has more rounded edges and trapezoids. Both SUVs have a standard power liftgate and moonroof for added luxury. Although both models are very similar in most regards, the main difference between them is the price. The manufacturer price of the Sorento is higher than that of the 2021 Santa Fe, so if you're looking to lease or finance the 2021 Santa Fe, come visit us at Family Hyundai so we can make it within your reach!