2021 Santa Fe vs 2021 Toyota RAV4 Chicago IL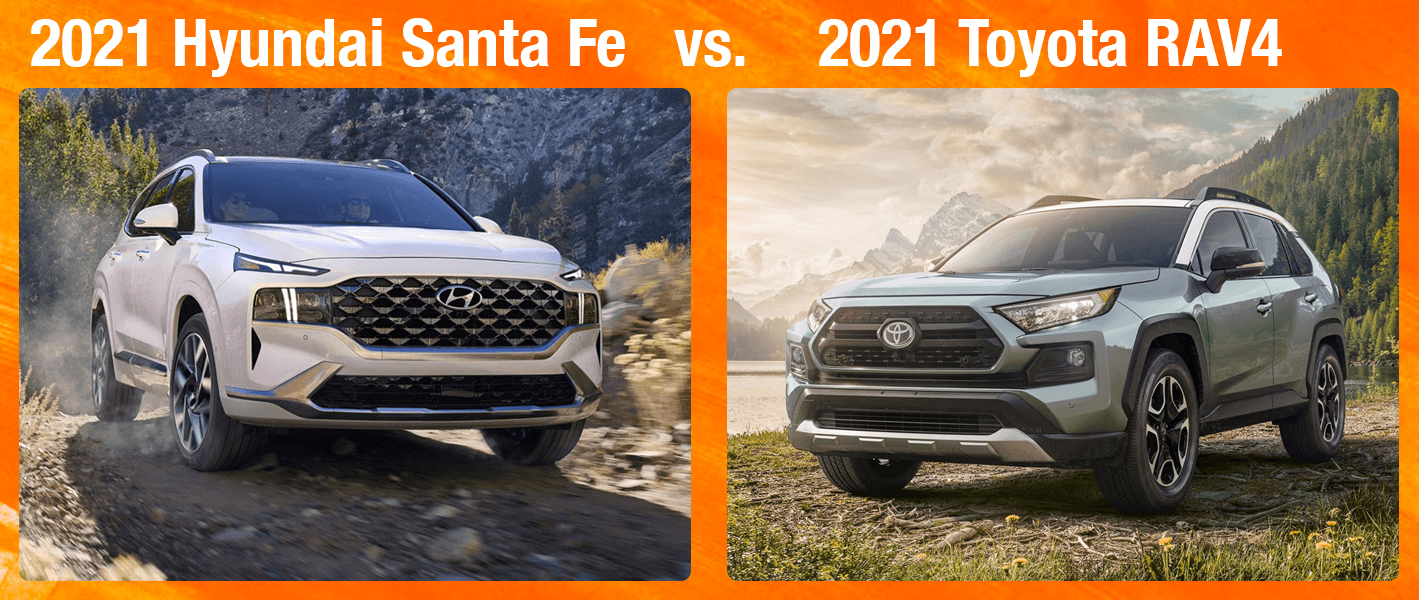 2021 Santa Fe vs 2021 Toyota RAV4 Chicago IL
Finding the perfect SUV for your family can be a challenge, especially when there are many characteristics and features you want to have. The 2021 Hyundai Santa Fe and 2021 Toyota RAV4 are two exceptional options for an outdoorsy and adventurous lifestyle. They both offer excellent fuel economy, performance, seating for five, and great towing capacity. Especially on the inside, you will find that both of these SUVs have modern and innovative technology as well as safety features. We will also explore some of their differences and distinguish which features are better on each model.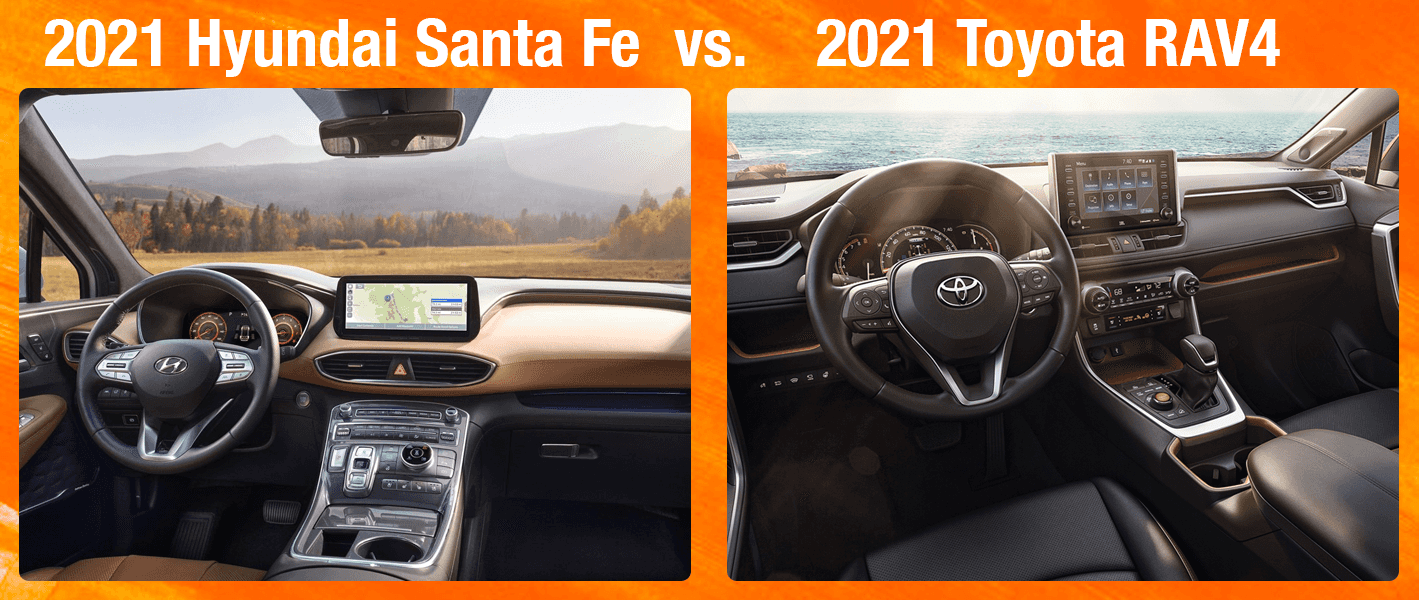 2021 Hyundai Santa Fe vs 2021 Toyota RAV4 Performance
The 2021 Hyundai Santa Fe and 2021 Toyota RAV4 both have excellent performance with Inline-4 engines. The Santa Fe provides more horsepower compared to the Toyota RAV4. Both SUVs have similar fuel economy. However, the Santa Fe has more towing capacity compared to the RAV4. With the Santa Fe, you get the choice between a diesel or a petrol engine to power your Santa Fe, and a hybrid powertrain option is also coming soon. The Toyota RAV4 comes with a 2.5-liter four-cylinder engine and an eight-speed automatic transmission. The Santa Fe also has a 2.5 L four-cylinder engine paired with an eight-Speed DCT transmission.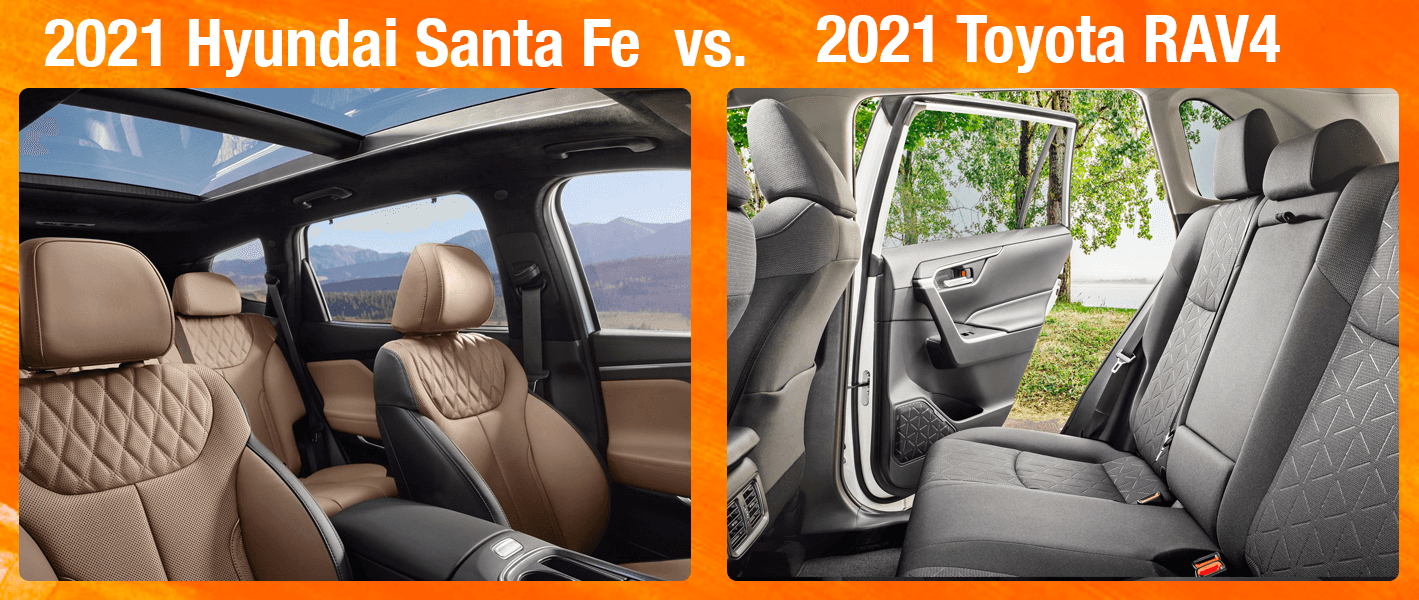 Santa Fe vs Toyota RAV4 Technology
The 2021 Santa Fe and 2021 Toyota RAV4 both have impeccable entertainment technology and connectivity features. Both of these SUVs have Android Auto™ and Apple CarPlay®. The Santa Fe has a 8-inch color touchscreen display audio standard, whereas on the Toyota RAV4 the 8-inch touchscreen is available.
| | | |
| --- | --- | --- |
| Crossover SUV | 2021 Hyundai Santa Fe | 2021 Toyota RAV4 |
| Seating | 5 | 5 |
| Towing Capacity | 2,000 to 3,500 lbs | 1,500 to 3,500 lbs |
| Warranty | 5 years/60,000 miles | 3 years/36,000 miles |
| Engine | Inline-4 | Inline-4 |
| Fuel Economy | 25 city, 28 highway | 28 city, 35 highway |
| Horsepower | 191 to 277 horsepower | 203 horsepower |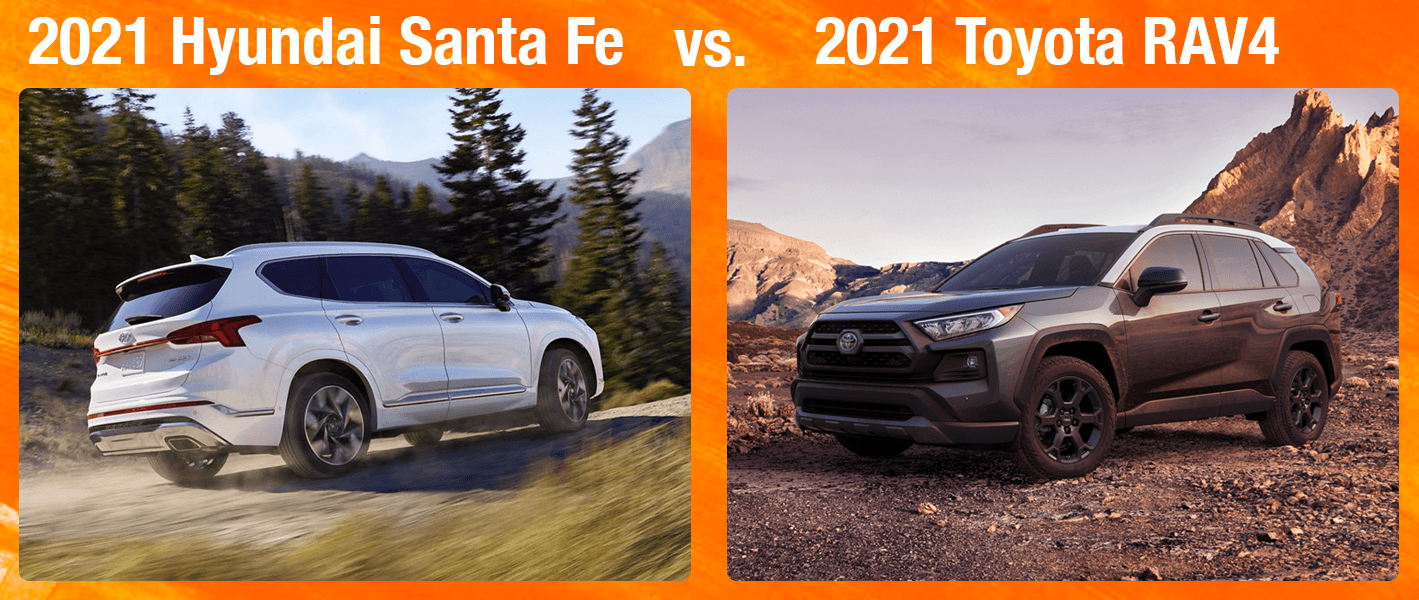 2021 Hyundai Santa Fe vs Toyota RAV4 Which To Buy
In terms of convenience, you would be making about the same number of stops at the fuel pump with the 2021 Hyundai Santa Fe as you would with the 2021 Toyota RAV4, because they are both able to travel similar distances on a tank of gas. However, depending on what your particular lifestyle is, the Santa Fe and RAV4 both have plenty of pros. The Hyundai Santa Fe may be the better option if you are looking for better towing capacity. Plus, with the Hyundai Santa Fe you'll have a longer basic warranty, as you get 5 years/60,000 miles whereas with the Toyota RAV4 you get 3 years/36,000 miles.
Sources:
https://www.hyundaiusa.com/us/en/vehicles/santa-fe
https://www.toyota.com/rav4/